ICTS Advisory Committee
In June 2014, a formalized governing structure for the Iowa Counties Technology Services (ICTS) was approved by the ICTS Board. The new ICTS Advisory Committee is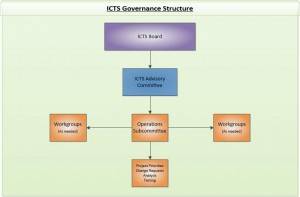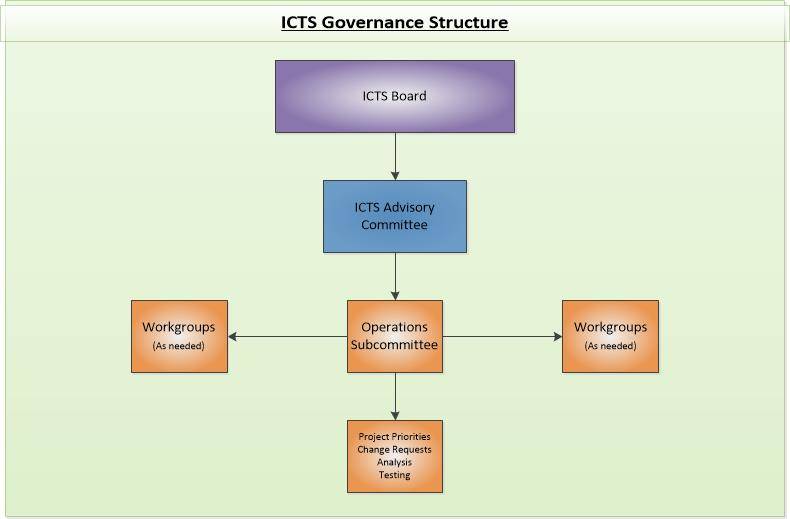 tasked with a variety of duties:
Make appointments to subcommittees;
Manage and direct questions and suggestions from member counties and staff by either sending the matter to the appropriate subcommittee and/or making recommendations to the ICTS Board;
Develop an annual work plan for ICTS to be submitted to the ICTS Board for approval;
Recommend an annual ICTS budget to the ICTS Board;
Submit any necessary substantive amendments to the work plan or budget to the ICTS Board for approval;
Develop recommendations as needed for updates and changes to ICTS documents;
Approve work and contracts necessary for projects within the parameters of the approved work plan and budget;
Review and monitor financial statements and reports;
Review financial controls, and assist and support audits of all major functions, e.g. finances, programs or organization;
Identify and pursue other sources of financing for ICTS;
Identify activities that enable and support secure electronic exchange of health information;
Oversee the development of security, privacy policies, and procedures;
Review all proposed changes to system design or operation for compliance with all current governmental rules;
Assist in and recommend policies to protect the confidentiality, integrity, and availability of ICTS data;
Create and sustain information security awareness;
Provide reference information and tools to assist users with security and privacy related issues that are prevalent within the network;
Identify and prioritize areas of opportunity for improvement and management of the requirement, design, and implementation of all projects;
Oversee design of infrastructure and delivery system changes necessary to achieve designation as an electronic health record system and to support ICTS initiatives;
Develop operational protocols and guidelines;
Define current baseline performance and targets for improvement;
Work with any ISAC affiliate to assist in technology implementation related to electronic clearinghouse services; and
Work on any objectives as directed by the ICTS Board of Directors.
The Operations Subcommittee, chaired by Brandi Kanselaar, will identify and prioritize areas of opportunity for improvement and management of the requirements, design, and implementation of all projects. To submit an agenda item, please click here to email Jeanine Scott.
2019 ICTS Advisory Committee Members
Chair – Melvyn Houser, Pottawattamie County Supervisor
Sarah Berndt, Southeast Iowa Link Region-Operations Subcommittee Chair
Sue Duhn, Northwest Iowa Care Connections Region
Jill Eaton, Central Iowa Community Services Region
Kathy Egbert, County Rural Offices of Social Services Region
Michelle Fields, Greene County IT
Dewey Hildebrandt, Bremer County Supervisor
Jennifer Robbins, South Central Behavioral Health Region CEO
Dawn Smith, Cedar County Supervisor