Certified Iowa County Supervisor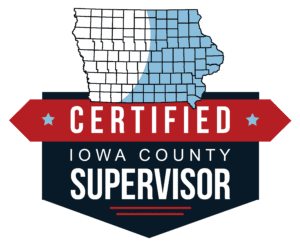 The Certified Iowa County Supervisor (CICS) continuing education program for Iowa county supervisors will begin in January 2021. CICS works to create a culture of Iowa county supervisor leadership development through a well-rounded continuing education program. CICS seeks to bring better county government in Iowa through education.
CICS is administered by the Iowa State Association of County Supervisors (ISACS). ISACS is an affiliate of the Iowa State Association of Counties (ISAC) whose members are the elected and appointed county officials from all 99 counties.
Materials for County Auditors
Supervisors Education Committee Members
Chair: Tim Schumacher, Emmet County
District 1: Crystal McIntyre, Warren County
District 2: Sandy Loney, Humboldt County
District 3: Jeri Vogt, Crawford County
District 4: Scott Belt, Pottawattamie County
District 5: Dale House, Van Buren County
District 6: Jeff Madlom, Delaware County
District 6: Sharon Keehner, Clayton County
Questions? Contact Rachel Bennett at rbennett@iowacounties.org.