Certified Iowa County Supervisor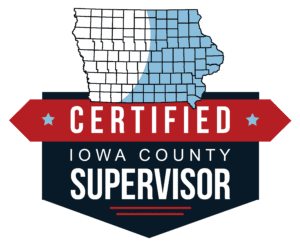 The Certified Iowa County Supervisor (CICS) continuing education program for Iowa county supervisors will begin in January 2021. CICS works to create a culture of Iowa county supervisor leadership development through a well-rounded continuing education program. CICS seeks to bring better county government in Iowa through education.
CICS is administered by the Iowa State Association of County Supervisors (ISACS). ISACS is an affiliate of the Iowa State Association of Counties (ISAC) whose members are the elected and appointed county officials from all 99 counties.

NEWS!!!
CICS is currently seeking six county supervisors to sit on the ISACS Education Committee. The Committee will be charged with providing framework recommendations for the CICS program and recommending educational programming for statewide meetings. The appointment is a two-year term that will require four in-person, half-day meetings per year with the first meeting being held in August 2019. Please submit your application for consideration before April 1, 2019.
Click here to apply for the ISAC Education Committee.
Questions? Contact Rachel Bennett at rbennett@iowacounties.org.