County Day at the Capitol
Iowa State Capitol
March 14, 2018
Free to all ISAC members!
(Please Note: Even though the event is free, we strongly encourage you to register before the February 23 deadline so we can have an accurate count to eliminate any unnecessary costs and minimize food waste.)
Agenda: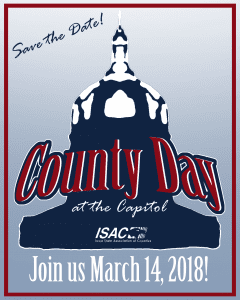 11:00 am – 3:00 pm – Legislative Interaction
11:30 am – Lunch – Outside of Meeting Room 116
Join us on Wednesday, March 14, 2018 for County Day at the Capitol. ISAC has secured Meeting Room 116 as a "home base" for county officials and ISAC staff. Staff will be available to answer questions and to give updates throughout the event on hot issues. There will be no affiliate displays in the Rotunda, and there will not be a pre-event briefing at another location.
Lunch will be provided for legislators and attending county officials outside of Meeting Room 116. This will give county officials the opportunity to interact with legislators.
In order to have the opportunity to meet with your legislators on this day, each county is encouraged to set up meetings with their legislators in advance. Most days of the session are extremely busy and having a scheduled time with your legislators is very important to make the most of your day.
As an ISAC member county it is important to be involved in the legislative session and to work to promote ISAC's legislative priorities and objectives. County Day at the Capitol will give our members an opportunity to support ISAC's efforts and work towards improving county government.
It is our hope that by making a concentrated effort to focus on county issues on just one day, that we will have the greatest impact at the Capitol.
Please mark your calendars now for March 14, 2018!
If you have any questions regarding the event, please contact Kelsey Sebern at ksebern@iowacounties.org.