Refreshments and Meals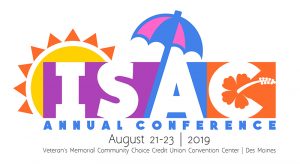 Registration to the 2019 ISAC Annual Conference includes all refreshments and meals.
If you have any special dietary needs (vegetarian, vegan, gluten-free, etc.), please contact Kelsey Sebern at ksebern@iowacounties.org by 4:00 pm on  August 8.  After this date we cannot guarantee special dietary needs. If you have communicated your dietary needs to ISAC, you will receive a special meal ticket with your conference registration packet.  All conference attendees are required to wear their name badge to all conference events. It will serve as your conference meal and admission ticket.
Wednesday, August 21
Breakfast | Assorted pastries, fruit, coffee, and tea
Lunch | Garden salad, pasta salad, chips and dip, BLT croissant, chicken caesar wrap, roast beef sandwich, warm chocolate chip cookie with vanilla ice cream, water, and iced tea
ES&S County Night at the Ballpark |  All-you-can-eat hamburgers, hot dogs, chips, potato salad, and soft drinks (must be pre-registered)
Thursday, August 22
HOT Breakfast | Chorizo egg strata, assorted fruit yogurt, coffee, and tea
Lunch | Garden salad, lemon pepper broccoli slaw, pulled BBQ chicken and shredded BBQ pork served with fresh bakery buns, shredded cheesy potatoes, brownie trifle, strawberry pound cake trifle, water, and iced tea
Friday, August 23
HOT Breakfast | Fluffy scrambled eggs topped with scallions, waffles, breakfast potatoes with peppers and onions, crisp bacon and maple sausage, sliced seasonal fruits and fresh berries, assorted pastries, chilled fruit juices, coffee, and tea
**Coffee will be served throughout the conference in the Schneider Geospatial Coffee Lounge. Once the exhibit hall has closed coffee will move to the meeting room level.
For further questions please contact Kelsey Sebern at ksebern@iowacounties.org or 515.244.7181.