Scholarship Golf Fundraiser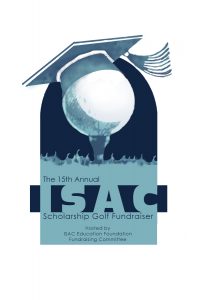 The 2019 ISAC Scholarship Golf Fundraiser will be held on Wednesday, June 12, at Toad Valley Golf Course in Pleasant Hill. The year's event is being hosted by the ISAC Education Foundation Fundraising Committee.
We are now taking registrations for sponsors and golfers! Don't miss out on this great event!
**A reminder to participants and sponsors that Iowa law prohibits county officials from accepting gifts (including food, drink, registration fees, and anything of value in return for which legal consideration of equal or greater value is not given and received) from restricted donors unless an exception applies. Exceptions that may apply at ISAC conferences likely do not apply to this event and generally speaking the only exemption likely available is a gift that is valued at $3 or less. If you have questions about your compliance with the gift law, please consult with your county attorney or legal representative.
If you have any questions regarding the event please contact Jacy Ripperger at 515.244.7181 or jripperger@iowacounties.org.
Agenda
9:00 am – Registration
10:00 am – Shotgun Start (Four-person best ball scramble)
12:00 pm – Lunch delivered on the course
4:00 pm (approximate) – Reception and Dinner immediately following golf
2019 ISAC Scholarship Golf Fundraiser Sponsors
We can't hold a successful event without our generous sponsors!
Title Sponsor
IP Pathways
Morning Refreshment Sponsor
County Risk Management Services, representing ICAP and IMWCA
Lunch Sponsors

Coming soon!
Reception Sponsor
Ahlers & Cooney PC
Dinner Sponsor
Caterpillar Dealers of Iowa
Beverage Cart Sponsors
Kingston Life & Health
Mulligan Sponsor

ISSDA
Hole Sponsors
Wells Fargo
Purple Wave Auction
Kingston Life & Health
Hole Co-Sponsors
Calhoun – Burns
Copy Systems, Inc.
ITC Midwest
Schneider Geospatial
Driving Range Sponsor
IPAIT
Event Sponsors
Cost Advisory Services
Speer Financial
Photography Sponsor

Community State Bank